Jessica Dumont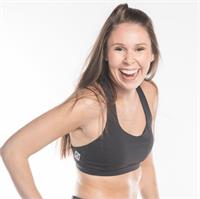 INSPIRED BY:

Our YYC Cycle Community – I am inspired everyday by the people I am surrounded by at the studios and find myself constantly striving to be a better person because of them. The very first time I came to YYC Cycle, I felt exhausted from my work day, intimidated, and to be completely honest, apprehensive about walking into the spin room altogether. Although I'm sure I wasn't on beat (at all), and just generally all over the place, I left the studio with a big smile on my face and way more energy than I had walking in. I remember feeling motivated, and I was hooked instantly! Whenever I'm having a bad day or a stressful week, I can always count on that time inside the spin room to reflect and unwind and come out of class a stronger person with a better perspective. YYC Cycle is so much more to me than just a workout studio, and if someone left one of my classes feeling the same way, I'd be so happy.
Jessica Dumont instructs the following:




In order to attend this class, please purchase the $10 GIVE'R Passes. 100% of proceeds will be donated to our current GIVE'R Charity. Class Registration opens each Thursday, a day before the class is held.