Georgia Burke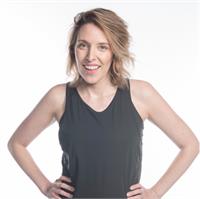 | Sun Worshipper | 90's Boy Band Expert | Dog Whisperer | Netflix series binger | Vehicle Vocalist |
What motivates me about being a motivator?
No matter what kind of day I am having, a 50 minute class at YYC is so energizing and uplifting. The positive and encouraging atmosphere pushes you to take risks and really dig deep to make both physical and emotional changes. I love that sense of pride in knowing you did something great for your body and mind and from my experience this can be a huge confidence boost! By being a motivator I wanted to facilitate all of these wonderful experiences for the biker gang while building on their fitness levels and making them smile along the way!
How would you describe your style of class at YYC?
Unpredictable and fun! I like to bounce around between alternative, pop and hip hop jams while mixing in a few guilty pleasures when the mood strikes. Above all I want my classes to feel like a challenge and a dance party all in one 50 minute workout.
If you could have an endless supply of any food, what would it be?
Ice cream sandwiches.
What are your top 3 favorite movies?
Dumb and Dumber
Seven
Little Miss Sunshine
How can we find you on #instagram?
@georgiab_403
Georgia Burke instructs the following: